SPIRITUALITY in FEMININE TERMS.
A female soul is no small thing.  Neither is a woman's right to define the Sacred from a woman's perspective. (Sue Monk Kidd)
Finding missing pieces.
Exploring spirituality from a different starting place, a different lens and operating system; empowering each of us to Own, Feed, and Free our Divine Spirit and soul, our delightful Goddess within; our lives, roles, and worth.
A daughter of a god is a goddess.

We are Everyday goddesses–living, breathing, walking this earth.
The SACRED FEMININE in Arts Sciences and Religion
This is powerful when one finally puts it together.  It was when I did.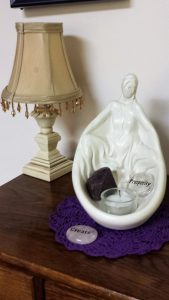 And so is the process and courses that came from it.

This Process is the Most Spirit-FREEING thing I have ever created!
A woman's soul is no small thing…
---